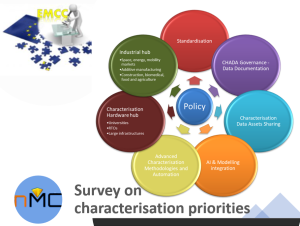 NanoMECommons project is cordially inviting EMCC community to participate in a survey integral to the consultation of roadmapping activities within the characterisation domain. This encompasses advanced characterisation, data exchange procedures, artificial intelligence, and other pertinent topics, drawing upon the invaluable experiences and insights from your projects.
This survey is a collaborative initiative stemming from the Horizon 2020 project NanoMECommons (Grant Agreement: 952869), building upon the discussions held at the EuroNanoForum 2023 event, particularly the special session of EMCC on advanced characterisation. This survey is endorsed by EMCC board and will contribute to roadmapping activities.
The gathered insights will serve as crucial input for the NanoMECommons project, aiding in mapping priority activities within the characterisation landscape. This effort will help identify gaps and contribute to the development of a framework, enabling characterisation to provide impactful solutions with broader implications at the EU level, particularly in connection with materials design, manufacturing, and the circular economy.
Your active participation in this survey is pivotal to shaping the future of characterisation advancements. For larger companies, it is recommended referencing a specific sector or business line during completion, recognizing that distinct processes or principles may be applicable.
Upon the community request, we extend the deadline for completion to December 10, 2023. To contribute your insights, please follow the survey link provided below:
https://forms.office.com/Pages/ResponsePage.aspx?id=aN-0_2T0jEWlRgD7OvZvaloDnbUHC4FEm-pbahNboJNUQktXV1kySzJDRjdaRVZFN0RGUEZYVVQ1Vy4u
Should you have any queries or require further clarification, do not hesitate to reach out to us at coordinator@NanoMECommons.eu or info@NanoMECommons.eu.
Thank you for your cooperation and valuable input.
Warm regards,
On behalf of NanoMECommons project